If you want to explore caves you need to have decent personal material.
Some small items to get you started
A speleo set to be able to use the ropes. In your first year (and part of the second), you can borrow this from the club
Helmet with a light. You can borrow one from the club, but soon you will need one with a better light!
Some safety material
Clothing
Of course, there are a lot of other things that might come in useful as well, the list given below is only a starting point. Each year, normally in November, Spekul organizes a co-purchase. A perfect idea for the end-of-year feasts. There is also a facebook group where second-hand caving material is sold, but be careful you don't buy anything unsafe.
A lot of the material showed here is made by petzl. This is because it is the most known company. We do not want to indicate that this would be the only company with good material. Other decent companies are (among others):
Small stuff
This is stuff you need to buy right away!
Spare light
A tikka, tikkina or something similar is ideal. They cost between €20 and €40. Check your batteries!

Emergency blanket
When a problem arises in a cave, or even when everything goes fine but a bit slower than expected, you often have to wait. This can easily take a few hours or more. To avoid hypothermia, you need to have an emergency blanket. This costs about €3 and does not weight much. Every now and then you need to check if your blanket is still ok. When it becomes wet, it deteriorates fast!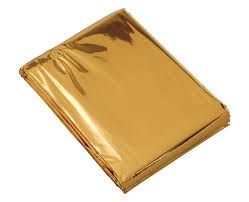 Whistle
To signal an emergency or to communicate 'rope commands' when there is a lot of noise.
Speleo set
Harness
A harness is used to create a safe connection between you and your material. You need a harness specifically designed for speleo, a harness for 'normal' alpine climbing is not sufficient. A harness costs between €60 and €90. It is best to buy one which has metal rings to close it. The most used harness is the fractio. Be aware: harnesses come in different sizes! It is not advised to buy this piece of equipment second-hand.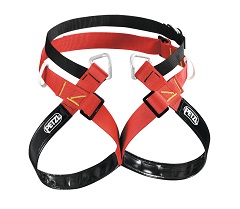 Delta
The delta is used to close the harness and to connect the material. This simplest and cheapest versions are Δ- or D-shaped steel or aluminium quick links (about €10). More expensive but easier to use (especially when nature calls) are the deltas with a triact closure (about €30).
Shoulder strap
To keep your croll in an upright position, a shoulder strap is used. Basically, there are two types: the simple torse (about €17) and a more elaborated one like the spelshoulder (about €22) on which you can attach some material. Both are sound options.
Descender
The most often used descender is the simple. Other brands have similar products which are good as well. They cost about €45.

The stop is a variant on the normal descender which has an auto-break function. This product is not suited for beginners as it is less intuitive to use. Incorrect use by inexperienced users damages ropes, so we do not allow newbies to use this device.

To connect your descender with your delta, you need to use a carabiner with a screw. Some people prefer a D-shaped carabiner for this as it keeps the descender somewhat in its place, but an O-shaped one will work as well. A second steel (!) carabiner is used to create extra friction to slow down your descent. For more information, see the section on carabiners below.
As an alternative, you can use a freino which replace both carabiners. It is more expensive (about €35) and wears down faster, so you need to check it often. It is better suited to more experienced cavers.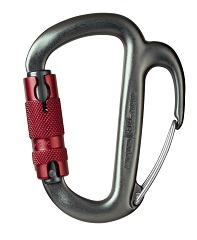 Ascenders
Two ascenders are needed for climbing ropes: a chest ascender and a normal ascender. The most used chest ascender is the croll, but other brands have decent chest ascenders as well. They cost about €60. If you would buy a second-hand one, be careful that the metal has no sharp metal edges. Lately, the new smaller croll model made be petzl has received a lot of criticism due to its apparent lack of resistance to wear. A good alternative is the chest ascender evo of climbing technologies.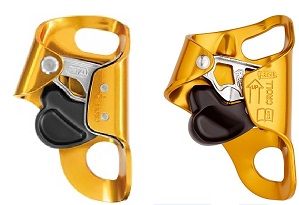 There is more variantion is design for the second ascender. There are types with or without handle. Both are all right, but for a starter it is be better to start with one without handle as you should not use arm power to ascent. Be careful, ascenders with handle exist in a right-handed and left-handed version. The standard ascender is the basic (about €45). However, the newest model of the petzl basic and camp solo have become much smaller than they used to be. Because of this reason, some people prefer other brands such as climbing technologies which makes the simple.

If you would buy a second-hand ascender, make sure there is a safety 'pin'.In the picture below, the two asecenders at the left have a safety pin and are OK. The right one is not safe. The new small ascender models of petzl and camp don't have a safety pin but are safe as well.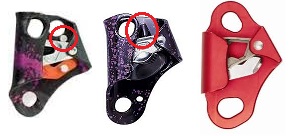 As an extra help with climbing you can also use a foot ascender such as the petzl pantin. This is especially helpful for deep pitches but not really needed for Belgian caves. Make sure to buy a right-footed pantin. A left-footed one cannot be used in combination with the croll. It costs about €60.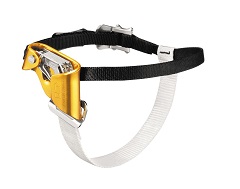 Cowstails
Cowstails need to be made of dynamic rope. Do not buy spelegyca pre-made cowstails or other cowstails made of ribbon. The best idea is just to buy 3m of dynamic 10mm rope and a set of D-shaped carabiners such as the spirit (no screw!) and make it yourself (ask someone in the club to teach you). Do not use second-hand cowstails!

Pedal
You can either buy a pre-made pedal such as the petzl footcord (about €22) (do not buy the petzl footape, which is less wear-resistant) or just buy 2m of dyneema rope (about €8) and a carabiner and knot it yourself.

Carabiners
Many types of carabiners exist. They all cost around €10-€15. Do never use any non-certified carabiners! It is not advised to buy them second-handed.
D-shaped vs O-shaped: A D-shaped carabiner is lighter for the same strength, but cannot be used for pulleys. Carabiners for life lines are always D-shaped. The breaking carabiner used with the descender should be O-shaped. The rest is up to you.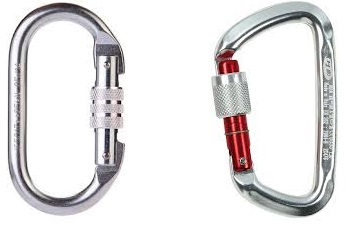 Steel vs alumium (zicral): Steel carabiners are heavier but more wear resistant. The breaking carabiner should be in steel as well as any carabiner used to traverse a tirollienne or steel cable. You need at least one steel carabiner.
Key-lock vs classic: A key-lock carabiner does not snag as easily to your rope. They are preferred compared to the classic type, especially for use with your life line.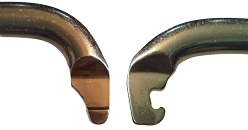 With or without screw: Some carabiners can be closed, others cannot. To connect your descender to your delta, you need one with a screw. For your life lines, carabiners with screw are not allowed! For the rest, you are free to chose. A special kind of closure is the triact or twist-lock which is more expensive but supposedly safer.
Waist bag
To store some extra material, food or drinks, it is nice to have a little waist bag. It also serves nicely to get yourself stuck in the most inconvenient places. The commonly used bag is the pochette mini.

Helmet and light
Helmets for caving are identical to those used for alpine climbing or canyoning. Of course, you cannot use helmets made for cycling or building. The rock star (€40) or elios (€50) are good helmets.

A helmet needs a light: an electric led-based light, not a carbide-burning, sooth-distributing, cave-poluting device. The range in price and performance for different lights is very big. At the lower end, a headlight such as a tikka suffices (you still need a separate spare one!). At the high end, you can find the scurion. As the choice for a light depends heavily on budget and your plans, and the different models are in constant and rapid evolution, it is best to ask some people in the club for advice.
Safety material
Prussic ropes
A prussic rope is a small piece of 5mm thick static rope that can be used to make a prussic knot, which can be used to replace an ascender. For caving you need a piece of 2m and one of 3m. This rope costs about €1/m.
Tibloc
The tibloc is a small device that can replace an ascender when you lost it. It costs €22.

Knife
Sometime you need to be able to cut a rope very fast. For this, you need to have a knife at hand, for example the spatha (about €22).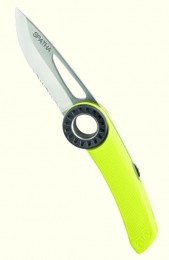 Clothing
Footware
You can use either old hiking boots or rain boots. The more expensive boots in real rubber wear down very fast in a cave, so the cheap plastic ones are even better. Preferably buy boots without inner lining (about €45) so they dry faster. Special caving shoes exist, but they tear easily.
Texair
A texair is not a real neccessity for caving, but it is so much easier and more comfortable compared to using old clothes. They are more resistant to water or mud so you stay dry longer and as it is a 'onesie', everything remains in place. The most commonly used texair is the hölloch comfort. A texair is rather expensive: about €140.
Undersuit
Also not really neccessary but nice to have is an undersuit. These are made of fleece and dry fast. Don't buy one that is too warm. You will sweat more and eventually become colder. The default undersuit is the piaggia bella. It costs about €100.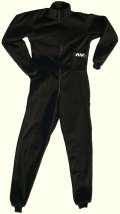 Gloves
Special caving gloves exist. They are waterproof, but do not breath, so your hands get sweaty. A better solution is the use of gardening or working gloves in fabrik with a plastic coating on the palm side. They cost between €5 and €10.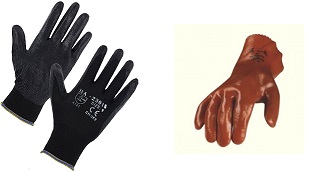 Knee/elbow pads
It is best to protect your knees and elbows. Not only for comfort, but also to avoid injuries. There are types that are worn below (€20-€30) and types that are worn over (€30-€50) the texair. Those worn above have the additional advantage to protect your texair.
Socks
Neopreen socks can be very comfortable and do not cost much (about €10).